Top 10 reasons to start a website design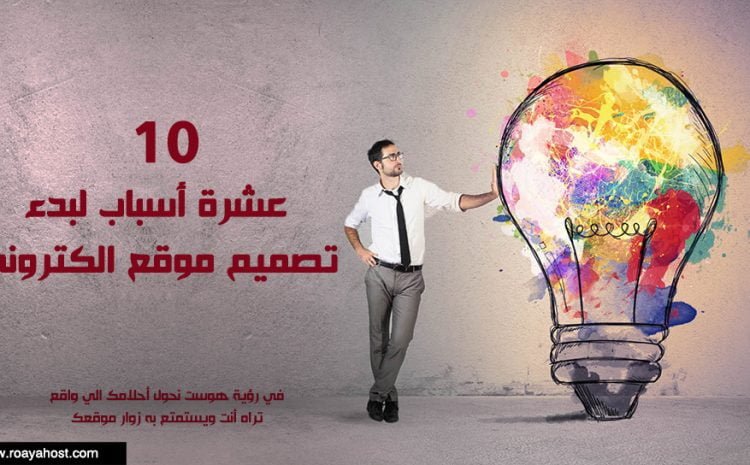 Top 10 reasons to start a website design
Website design is no longer just a pleasure or a luxury, but has become a necessity imposed by competition and new working conditions. That is why we find most companies in the world divide their work into two parts: the real part and the virtual one, which is no less important. Any successful company today needs a means of introducing it, marketing its products, and effective communication. And always with partners and customers, hence the need for this company to have a website on the Internet that introduces it and the services and benefits it provides, and that is the link between it and its customers. By owning a website for your company, you have a complete media window for your company. And you will learn about the advantages that your company can benefit from by owning a site for it, whether in terms of media, marketing, communication tools with customers, management, and others. In this article, he will guide you on the importance of starting to design a website for your company.
1 – A media window for your company
By owning a website for your company, you have a complete media window for your company, where you can add a profile page for the company, add a CV, display services and products, and display them in an attractive and beautiful way.
2 – Expand the geographical scope and increase the number of your customers
Statistics have shown that approximately 2.4 billion people around the world use the Internet, and that 90% of these users either purchased products from the Internet, or sent companies to their e-mail during the past 12 months, as the site became necessary to attract more customers, otherwise the company became Missing.
3 – Gives your business more value
Imagine that you met a businessman who finds an opportunity to build business relationships, and he asked you to look at your company's website, what would your situation be? How will your value to him be? That's why a website gives your business more value in everyone's eyes.
4 – Increasing the impact on the target groups
Studies have proven that people are becoming more affected by website advertisements, and your website will give you an opportunity to influence people's decisions and direct their tastes.
5 – Look your best and be proud of your accomplishments
Picture that feeling of pride when you finish a certain work and receive a certificate of appreciation or a mention from the client, or you make an achievement that you see as unique in your field, then you publish it on your website and see it by millions of people, it is really a feeling of pride and pride.
6 – Renew goals
If you are the one who puts continuous content for their sites, these articles and ideas will help you to renew your goals and plan your actions.
7 – Your website is open 24 hours a day
In your company, you may adhere to specific working times, but your website will not restrict you to specific times of the day or night, as it works within 24 hours, and this will attract customers to you at any time during the day. Anytime, even if you're asleep.
8 – Ease of communication with customers
Communicate with your customers through the direct chat system, the ticket system, or by sending messages via e-mail. You can email your customers with the latest offers, products, events, photos or any other content.
9 – An effective and inexpensive way to market your products and services
The site will open a wide door for you to market your products and services, and enable you to attract more customers by following many of the well-known techniques in this field.
10 – outperforming competitors
Designing a website gives you a golden opportunity that gives you greater power that enables you to outperform competitors. If this website is designed in a professional manner and by a company that has experience in this field, make sure that you will be the most prominent among your competitors and the most attractive to customers.