Why does your company need a website design?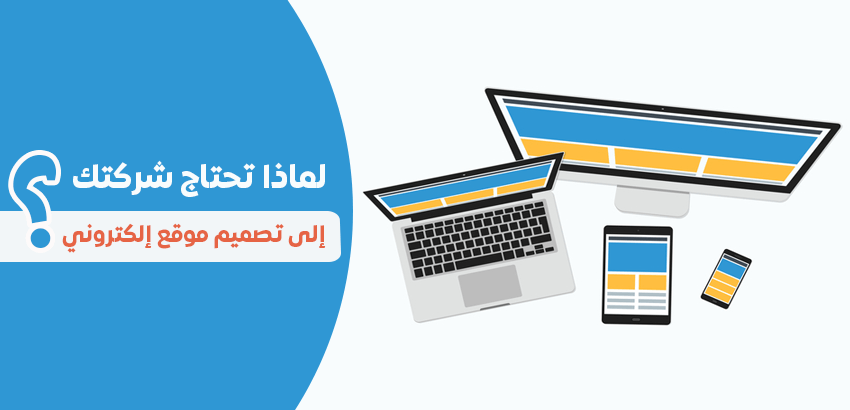 Why does your company need a website design?
Your website contributes to the expansion of your business and your business points. Who among us today does not use the Internet to search for what he wants to buy and the best places he can go to, so you, as an entrepreneur that provides a service or product to consumers or beneficiaries, must not neglect its structure and content, as the website requires Your company has to adapt its shape to the form of what you produce or offer that you display completely with your line of business and the company's image in front of competitors. Good and extensive marketing of your products inside and outside the country in which you live.
Benefits of designing a website for your company
You can create a website for your field and this site becomes the mediator that connects you and all other parties and a good link with your customers. You can receive customers through your website and display your products and new offers for your product, and you can learn about customers' complaints, suggestions and requests directly without the need for an intermediary between you and them. The website is also a way to increase the company's profits if the number of your customers increases slowly or you do not notice an increase in the number Customers, you have to use a new way to get to know your product, and there is no way to spread faster than a distinguished website with an attractive interface and designed in an easy way so that it becomes a good interface for you to your customers.
Is there an employee working in the company 24 hours a day? Of course, you cannot make your website a section of employees that works 24 hours a day. The website receives customers and introduces the company's products and a way to communicate with other countries and brings you a good return on your company and your profits and a way to make the customer reach you easily and at any time And from anywhere in the world without the need to wait for time or set dates or travel from one country to another or from one governorate to another.
What does Super M Soft offer you in web design services?
The main aspect that will guide you in deciding where to create and design a professional website depends on the purpose of this website, so you can find different categories of websites that you can choose from, including:
1- Corporate website design:
Designing websites for companies or any commercial activity has become the most important way to promote your services and products on the Internet. Designing a professional website becomes a window of information that is presented to potential customers in your field and presents them with all the news and events that revolve in your company and your field in general, in order to become the promotion and marketing of your products. Your services are easy, away from paying high costs in traditional marketing matters, and what distinguishes websites from others is the good design, coordination, colors, form of menus, the content that is displayed inside, and periodic follow-up to update and maintain the sites.
2- Create an online store:
In recent years, many people have seen an ideal business opportunity in creating a professional website to sell certain goods, because creating an online store can be defined as a website whose main goal is to display your products and give you opportunities to buy through this site, it may seem as if It was a traditional store, but with the convenience of the Internet, the method of payment is different in many ways and can be made at any time of the day, especially if this store operates 24 hours a day that you can access from the sofa of your home, a webpage of this style requires the presence of A series of advantages, where e-commerce must provide the same quality of service to the customer as a physical store, that is, if the customer arrives at this store and sees that it does not provide a good service, he will not enter or buy anything, and the same applies to e-commerce.
3- Designing personal websites:
Such types of web pages that Super M Soft as the best website design company offer you are pages that are easy to create and suitable for every taste, i.e. design is usually an essential aspect. Another reason for the demand for such pages is that the person is known as artists or Doctors, photographers, or architects and civil servants who have a history and want to have a web page to visually display their work, no matter why you are creating a professional web page in this style, it is necessary to have a platform that allows you to create multiple pages such as having a photo gallery with Implemented projects, and a contact form so that it is easy for others to communicate with you at any time.
The basic services provided by Super M Soft that your web page must contain:
📌 Responsive design of your choice and suitable for all devices and screens (mobile, tablet, …).
📌 The possibility of designing the site in more than one language.
📌 An easy-to-use control panel to manage the site's content, pages, sections and menus..
📌 Department of Company Identification.
📌 Chatbot (automatic chat based on artificial intelligence to communicate with customers and offer services without any human intervention).
📌 Section introducing the services provided.
📌 The presence of photo and video galleries.
📌Designing a news bar to display the company's latest news
.📌 Department of communication with us.
📌 Add the company's website on Google Maps.
📌 Integration with social networks.
📌 We provide full and complete protection for sites on our servers.
📌 Chat and live support with customers through the site.
📌 The possibility of paying online through the website.
📌 A special section for success partners.
📌 Unlimited number of internal sections and pages.
📌 Department of Job Application.
📌 Department of Company News (Blog).
📌 Postal bulletins and periodic messages to site membersAnd the possibility of controlling it easily.
📌 An infinite number of official e-mails for the site for interested and targeted people.
📌 Domain and hosting for free for a whole year.
📌 The ability to convert your website into a mobile application with ease and be in constant contact with your customers to meet their requests.
Whatever your reason for creating a web page, you have come to the right place to create and design a professional website and how to choose the most appropriate option according to your priorities, and in any of the options presented to you it is not necessary to have advanced software knowledge, leave Super M Soft such tasks, we We specialize in creating and designing a website and also developing it for all your business. We also focus in Super M Soft on marketing through social media and creating ads to display your company's brand and highlight it in a full marketing competitive manner that achieves what you aim for.